GLM News
President Kuffour Honours Great Lamptey-Mills With Grand Medal Award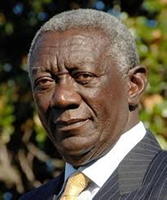 President John Agyekum Kufour on July 3, 2008 conferred on the Chief Executive Officer (CEO) of Great Lamptey-Mills Complex Schools, one of the leading pre-education institutions in the country Mr Enoch Lamptey-Mills the Grand Medal award in education.
The CEO of the school was among a tall list of individuals who have lived exemplary life and excelled in their field of profession over the years.
The citation of the award reads "Instrument of Conferment of National Honour to Mr Enoch Lamptey-Mills in exercise of the powers vested in me by declaration of the 1960 Honours warrant.
I, John Agyekum Kufour in recognition of your outstanding virtues and in appreciation of your service to our country, Ghana in the field of Education hereby award to you Grand Medal "